Motorised Power Ventilators Manufacturers And Suppliers In India
---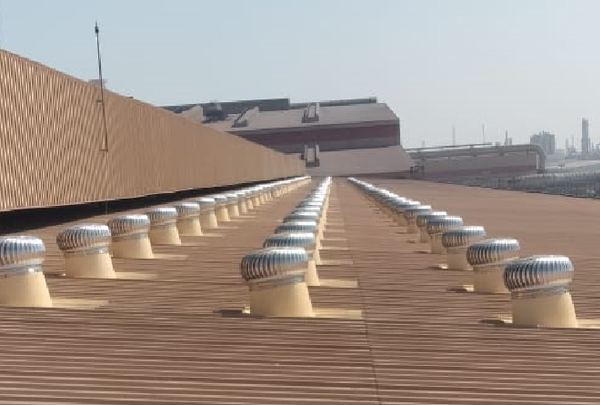 This Polycarbonate (PC) are a particular group of thermoplastic polymers having useful features like temperature resistance, impact resistance and optical properties. They are easily worked, molded, and thermoformed. Because of these properties, polycarbonates find many applications of corrugated profiles, domelights, flat or curved glazing and sound walls.
The efficiency of Conventional Ventilators is dependent on wind velocity. The wind velocity may not be adequate at times when maximum exhaust is required. The Motorised Ventilators provide an option for exhaust of polluted air during such specific events. When used alongwith conventional ventilators they can provide very efficient exhaust with minimal power consumption.
The efficiency of Conventional Motor driven exhaust is compromised when installed on walls mostly nearby windows and doors. Most of the air being exhausted is sucked from windows or doors nearby instead of the apex of the premises where maximum hot air accumulates. Installation of Motorised Ventilators on the apex is the best location for providing maximum exhaust of hot air/smoke/gases.

MAKE : MUKTA ENGINEERS
APPLICATION : FUME/ HEAT EXTRACTION (EXHAUST)
MEDIUM : HOT/HUMID AIR
MODEL : ME (32)
FAN SIZE : 32"
CAPACITY : 17,000 m3/hr ( 10,030 CFM)
MOTOR RATING : 1.5 HP/ 960 RPM 3 PHASE CROMPTON GREAVES/ BHARAT BIJLEE/ HAVELS MAKE
DRIVE : DIRECT DRIVE

FRP sheet : 1057 mm x 2000mm x 3.5mm thk(as per your sheet Profile)
Top canopy : dia. 50" oval section at top of the fan casing
Made of light weight FRP mould
Fitment : At roof elevation
Accessories : motor, canopy , G.I wire mesh bird screen, Matching flange, G.I. coated nut and bolts.
Flanges : 2 nos. Extra flanges will be provided along with the fan at both the ends.
Balancing : fan will be dynamically balanced for vibration free running.
Technical comments:
The initial/project cost of the fan will be low.
The tensile weight of the fan at roof elevation will be less.
Motor h.P power consumption will be less , tends to less
Electrical power consumption and minimize the total running cost.
Fan blade will be of ms epoxy coated light weight moulded gives the low dynamic torque on the roof.
Ease in installation and maintenance if any in future.
Top canopy will be of light weight made of FRP moulded.
Special class construction with very easy to be mounted at roof level.
Technical advise / solution:
Fan diameter will be of 32" made of completely FRP of 5mm thk.
Motor will be of 1.5 hp/960 rpm having its max. Current capacity up to 3.2 amps.
Frp sheet with one piece fan casing(round section) to be self molded with sheet to avoid any leakages from roof.
Frp sheet of size- 1057mm x 2000mm as per your existing roof profile having 3.5 mm thk.